Welcome to APRIL News (Edition 2, 2022).
This edition's Research and Innovation piece provides an update on new projects approved by the APRIL Board and contracted, as well as details of a new project examining the use of multiplexed, portable on-chip sensing technologies to detect and assess multiple pain and welfare biomarkers in pigs.
The Research Snapshot focuses on one of a number of projects APRIL is supporting related to heat stress and seasonal infertility. Progress in some of these projects has been delayed over the last 2 years or so as a result of Covid, but results from some studies are now coming in. A special thank you to researchers, students, technicians and everyone else involved in all of these projects for working very hard, often under trying circumstances, to keep these projects going.
A reminder that applications for potential research students wishing to be involved in the current 3-year CRC-Project, Eliminating Pig Tail Removal to Improve Welfare and Industry Sustainability, close 8 July. Further details can be found below.
Our Member Focus this edition is on Dr Jeremy Cottrell, from The University of Melbourne.
Congratulations to Professor Frank Dunshea, The University of Melbourne and APRIL Board Member and Education Advisory Committee Chair, who recently received the American Feed Industry Award in Ruminant Nutrition Research from the American Society of Animal Science (ASAS). The AFIA Award in Ruminant Nutrition Research recognises an individual who has contributed to and published outstanding work in the last 10 years in the field of ruminant nutrition.
Professor Dunshea will be the first person to be awarded both the ASAS Non-Ruminant Nutrition award (2013) and the Ruminant Nutrition award (2022); he has also been the recipient of the ASAS Growth and Development (2009) and Meat Science (2017) awards.
An early reminder for your calendars that this year, in mid-November (date and venue yet to be decided) and in conjunction with the Annual General Meeting, APRIL intends to hold our annual Stakeholder Forum in a face-to-face format. This will be the first time in 3 years that this would be able to occur. Further information will be forthcoming.
Finally, and as always, we would welcome receiving APRIL-related information and upcoming events from our Members for possible inclusion in the Newsletter [subject to space (preferred length is 100-150 words) and content], as we see this as an important communication forum between Members also. Please note though that news of APRIL activities has priority, and items of an advertorial nature are not permitted
Sincerely,
Dr John Pluske
CEO and Chief Scientist
Research and Innovation
A number of new projects have been fully executed recently, as follows:
1. Investigating the impact of circulating creatine concentrations in gestation on vitality and survivability of low birth weight piglets [Dr Tanya Nowland, Affiliate Associate Lecturer (The University of Adelaide) and Research Scientist – Pig Reproductive and Welfare (SARDI)]. Other project partners are Feedworks Pty Ltd., Rivalea (Australia) Pty Ltd., SARDI, The University of Adelaide and AlzChem Trostberg GmbH.
2. Brain measures of positive welfare in pigs (Professor Alan Tilbrook, The University of Queensland). Other project partners are SunPork Solutions, Deakin University, and The University of Western Australia.
3. Use of progesterone and GM-CSF to improve the fertility of extended semen (A/Prof Mark Nottle, The University of Adelaide). The other project partner is Rivalea (Australia) Pty Ltd.
4. Heating up the house: Evaluating the effect of novel monitoring and heating systems on the productivity, welfare and economics of farrowing houses (Dr Maria Jorquera-Chavez, Rivalea).
5. Use of an inhibin vaccine to increase litter size in pigs [Professor Paul Verma, Affiliate Professor (The University of Adelaide) and Science Program Leader – Pigs and Poultry (SARDI)]. Other project partners are The University of Queensland and Dr. Paul Tolstoshev.
Congratulations to all those involved in the successful projects, and we look forward to seeing the outcomes from the projects and the benefits to the Australasian pork industry.
APRIL is pleased to announce that together with The University of Adelaide and supported by Dr Barry Lloyd, it has been awarded a Department of Primary Industries and Regions (PIRSA) AgTech Growth Fund grant from the Government of South Australia. The project, Smart sensors for enhanced animal welfare monitoring and outcomes, will build upon previously-funded APRIL research in multiplexed, smart, portable on-chip sensing technologies to rapidly and economically detect and assess multiple pain and welfare biomarkers in pigs.
Total project budget is $159,445 comprising a cash request from PIRSA of $54,000, consortium cash contributions of $47,000 and consortium in-kind contributions of $58,445. Dr Abel Santos (The University of Adelaide) and Professor Paul Verma (Leader Pigs & Poultry, Livestock Sciences, South Australian Research and Development Institute) will lead the project.
APRIL thanks the Department of Primary Industries and Regions, Government of South Australia, for supporting this project (https://pir.sa.gov.au).
One of APRIL's strategic imperatives is to seek leverage of its funds against additional investment in priority research, education and training, and commercialisation programs to achieve necessary scale for key industry outcomes. In this regard, APRIL continues Its Kickstart program for the 2022/23 financial year, which is aimed at providing seed funding to individuals/organisations to put together a project submission that seeks significant external funding, such as the projects shown in the previous table.
More details of the scheme can be found at https://apri.com.au/research/funding-opportunities/, or by contacting Dr John Pluske (j.pluske@april.org.au). Applications are open at any time.
Finally, and in an interesting piece of news released in May (https://www.gov.uk/government/news/genetic-technology-bill-enabling-innovation-to-boost-food-security), a bill – the Genetic Technology (Precision Breeding) Bill – was introduced into the House of Commons. The Bill ("A Bill to make provision about the release and marketing of, and risk assessments relating to, precision bred plants and animals, and the marketing of food and feed produced from such plants and animals; and for connected purposes") seeks to "remove unnecessary barriers to research into new gene editing technology, which for too long has been held back by the EU's rules around gene editing, which focus on legal interpretation rather than science – hindering the UK's world leading agricultural research institutions".
The new (proposed) regulations will create a category for genetically edited crops and animals, separate from those which govern genetically modified organisms (GMOs).
Education and Training
A project consortium led by SunPork Pty Ltd. and involving APRIL is interested in hearing from potential research students wishing to be involved in the current 3-year CRC-Project (CRC-P), Eliminating Pig Tail Removal to Improve Welfare and Industry Sustainability. The overall aim of this research project is to provide information to enable pork producers to make objective decisions with confidence as to whether they can raise pigs with intact tails.
A number of different opportunities exist for undergraduate and postgraduate students/potential students interested in pursuing this opportunity, as follows:
Scholarship Awards for Honours students.
Support for DVM/undergraduate Veterinary Science projects.
Support for MS/MSc/MPhil students, where a research project is an incorporated component of the program of study.
Eligibility
Eligibility varies according to the different scheme being applied for. Make sure the Guidelines associated with each opportunity are read thoroughly before starting and submitting an application.
How do I apply?
Information concerning the different education opportunities, including Guidelines and application forms, can be found below. Completed applications should reach APRIL by the closing date, and the outcomes will be announced after the closing date.
The APRIL Education Advisory Committee will assess all applications against criteria including the academic record and curriculum vitae of the applicant, the applicant's research potential including the research proposal, alignment with the CRC-P, evidence of industry endorsement/relevance, a personal statement from the applicant, the supervisor(s) track record, and a communication and delivery plan (if appropriate).
APRIL will determine the number of, and the amount of, any grant awarded.
Further information on the range of Awards available can be found here: https://apri.com.au/education-and-training-opportunities/.
Applications should be lodged electronically by the closing date to Dr Charles Rikard-Bell, c.rikardbell@april.org.au. Questions on any of the Awards should be directed to Dr John Pluske, j.pluske@april.org.au.
Applications close: 8 July 2022.
Commercialisation
An exciting project instigated by Dr Charles Rikard-Bell, involving APRIL, Aunir and HoneAg (https://www.honeag.com), is currently exploring the feasibility of using a hand-held (mobile) near-infrared spectroscopy (NIRS) device to allow the rapid determination of grain quality for feeding to pigs and chickens. Portable NIRS devices potentially offer greater flexibility at a lower capital cost for end-users.
In the last edition of the Newsletter, a call for applications for a Commercialisation Project was made, i.e., Reducing variation in lifetime performance: Collection, storage and distribution of grain samples for in vivo and in vitro experiments, assessment of related grain chemical and physical characteristics, and management of the research data produced from experiments to improve the AusScan Online NIR calibrations.
I am pleased to announce that the Board approved (in principle) an application addressing this Commercialisation Project from The University of Sydney, which will continue their long association with the Pork CRC/APRIL in supporting AusScan Online.
In further AusScan Online news, a research proposal, Layer specific NIR calibration for predicting metabolizable energy of grains, from Dr Reza Barekatain at SARDI, was approved recently by Australian Eggs. The results of this 30-month project using wheat, sorghum, barley, triticale and maize will strengthen the current layer AME calibration, and be available for use by the layer industry thereafter through Aunir.
Research Snapshot
APRIL is supporting a number of projects related to heat stress and seasonal infertility (https://apri.com.au/research/supported-projects/). Unfortunately, progress in some of these projects acceded to Covid and hence progress has been delayed, but APRIL is now receiving a number of reports providing some interesting outcomes. One such project, Hot and bothered! Long term impacts of late pregnancy heat stress on sows and progeny (Project Leader: Dr Kate Plush, SunPork Group, and involving staff and students at The University of Melbourne), is examining the impacts of heat stress in gilts during the last week of gestation on aspects of farrowing performance and piglet survival.
In work to be presented by Mr Weicheng Zhao, PhD student (The University of Melbourne), at the 34th Australian Association of Animal Sciences (AAAS) Conference, Cairns, Queensland, the imposition of cyclic heat stress (30°C daytime; 28°C nighttime) from day 110 of gestation until farrowing completion demonstrated numerous negative impacts on production. Sows were susceptible to this heat stress regimen in the last week of gestation, demonstrating lower daily feed intake and increased stress responses, for example, higher respiration rates, higher rectal and skin temperatures.
Heat-stressed sows farrowed more stillborn piglets and fewer liveborn piglets. There was a carry-over effect of sow heat stress on neonatal piglets, as evidenced by a higher liveborn mortality rate and a shorter small intestine length in the surviving piglets. These findings suggest that sow heat stress during late gestation and farrowing had an immediate negative impact on both sows and their offspring.
Check the APRIL website, https://apri.com.au/research/project-reports/, for details relating to Project Summaries and Final Reports.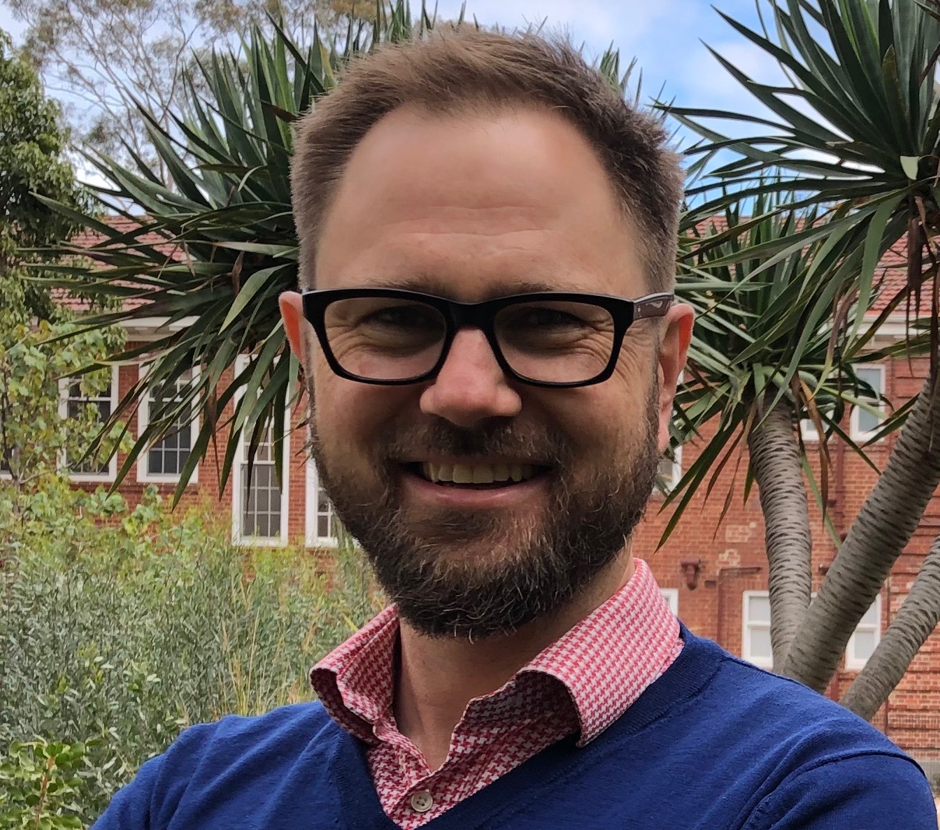 Member Focus – Dr Jeremy Cottrell (The University of Melbourne)
My introduction to pigs came at 16 years of age when I was fortunate enough to work in a wildlife park in North Queensland. For over 5 years I looked after our pigs in the "friendship farm", who lived a very safe distance from the parks' other reptilian attractions down the hill! After finishing undergraduate studies at James Cook University, I embarked on a PhD at Werribee, based at the then Victorian Institute of Animal Science (VIAS). Although my studies were not on pigs, the collaborative nature of research and the volume of pig projects completed at the on-site experimental piggery meant that I absorbed a tremendous amount of experience working with pigs that cultivated a lifelong fondness for the wider industry.
After completing my PhD studies, I followed a number of paths, but pig-based research has remained a mainstay. For example, my Post-Doctoral Fellowship was at the Children's Nutrition Research Centre (Houston, TX), who, contrary to what the name suggests, have completed numerous fundamental studies on intestinal development and amino acid metabolism using the piglet as a model. Further, after my return to Australia, I worked in the biotechnology industry where we used pigs for preclinical drug delivery models.
However, joining The University of Melbourne in 2014 has marked a tremendously rewarding period of my career where I have been able to focus my experience on pig research. Over that time, I've covered a diverse range of projects from the developing foetus to meat quality, nutrition or even biomedical research. But perhaps my greatest contribution has been to the understanding of heat stress, particularly in its effects on the gut. We've applied these findings to sows, where we've shown that heat stress reduced the number of muscle building blocks in developing piglets, which is a handbrake on growth. In 2020, I joined the APRIL R&D Advisory Committee as The University of Melbourne representative.
Conferences, Events, Important Dates
12th World Congress on Genetics Applied to Livestock Production, 3-8 July 2022; Rotterdam, The Netherlands (https://wcgalp.com).
34th Australian Association of Animal Sciences (AAAS) Conference, 5-7 July 2022; Cairns, Queensland, Australia (https://www.animalscienceconference2022.com.au).
NZPork Conference, 25-26 July 2022; Christchurch, New Zealand.
19th Asian-Australasian Association of Animal Production (AAAP) Animal Science Congress, 23-26 August 2022; Jeju Island, Korea (http://www.aaap2022.org).
73rd Annual Meeting of the European Association of Animal Production (EAAP), 5-9 September 2022; Porto, Portugal (https://www.eaap2022.org).
7th EAAP International Symposium on Energy and Protein Metabolism and Nutrition (ISEP 2022), 12-15 September 2022; Granada, Spain.
2022 Feedworks Conference "Making Waves in Animal Production", 14-16 September 2022; Novotel Sunshine Coast Resort, QLD.
TropAg International Agriculture Conference, 31 October-2 November 2022; Brisbane Convention and Exhibition Centre (https://tropagconference.org/).
APRIL Stakeholder Forum, November 2022 (date and venue yet to be decided).