A key part of APRIL's Strategic Plan is education and training, to assist with human capacity building for the Australasian pork industry. APRIL will continue to support postgraduate and undergraduate activities as well as the Industry Placement Program.
When education-related funding opportunities are available, details will be available on our Education and Training Opportunities page.
Details of scholarship opportunities will be available on our Scholarship Opportunities page.
All applications for education and training support through APRIL are assessed by the Education Advisory Committee. This comprises Professor Frank Dunshea (Chair; The University of Melbourne), Dr Rebecca Athorn (Australian Pork Limited), Dr Tony Peacock (APRIL Chair), Professor Eugeni Roura (The University of Queensland), Dr Stuart Wilkinson (FeedWorks), and Professor John Pluske (APRIL CEO/Chief Scientist).
New APRIL Industry Placement Program awardee starts at Rivalea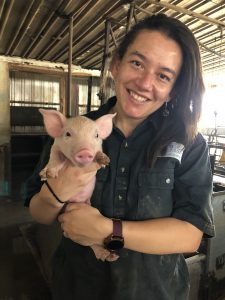 March 2021: APRIL is pleased to announce that Dr Maria Jorquera-Chavez has commenced her Industry Placement Program with Rivalea (Australia) Pty Ltd. in Corowa, New South Wales.
Dr. Maria Jorquera-Chavez has recently joined Rivalea (Australia) Pty Ltd. in the position of Research Scientist. She has a degree in Veterinary Science, a Master of Animal Sciences, and recently completed her PhD with The University of Melbourne in the use of computer vision techniques for monitoring health and early detection of illness in grower-finisher pigs.
Dr. Jorquera-Chavez will assist in developing and implementing research programs, particularly in the areas of new technology, health and welfare. Maria is participating in an APRIL-funded project addressing the implementation of thermal imagery to predict lactation performance and monitor the health status of sows.
Dr. Jorquera-Chavez will also coordinate future experiments as principal investigator addressing the use of new technologies and management practices to monitor and improve the health and welfare of pigs.
New APRIL Industry Placement Program awardee starts at the SunPork Group
August 2020: APRIL is pleased to announce that Lauren Staveley has commenced her Industry Placement Program with the SunPork Group in South Australia.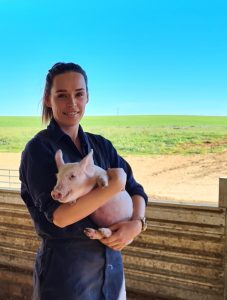 Lauren began her interactions with the pork industry in her second year of undergraduate Animal Science studies at The University of Adelaide through the Pork CRC student placement program, where she was placed at the McMahons McPiggery in Lameroo. After a brief detour into sheep parasitology (Honours project), Lauren worked as a Technical Officer at The University of Adelaide for Dr Will van Wettere, spending most of her time on sow reproduction and welfare projects. This eventually led to Lauren commencing a PhD focussed on the potential use of a suite of early (pre-weaning) indicators to aid in the selection of replacement gilts, titled Conception to culling – effective management of the gilt to optimise reproduction and longevity. The main aim of her postgraduate studies is to reduce the high replacement rate of sows in Australian breeder herds. Lauren plans to submit her PhD thesis within the next 6 months.
Lauren currently works for the SunPork Group as a production Management Trainee based at a 5,000 sow breeder farm. Lauren has already been exposed to many aspects and production stages of the business; however, Lauren said that the APRIL Industry Placement Program awardwill allow her to gain more in-depth knowledge of pork production whilst facilitating her involvement in reproduction and welfare experiments. The Industry Placement Program will provide Lauren with the opportunity to question and evaluate current production practices, and she looks forward to developing a greater understanding of pork production and research.
APRIL Industry Placement Program starts at Rivalea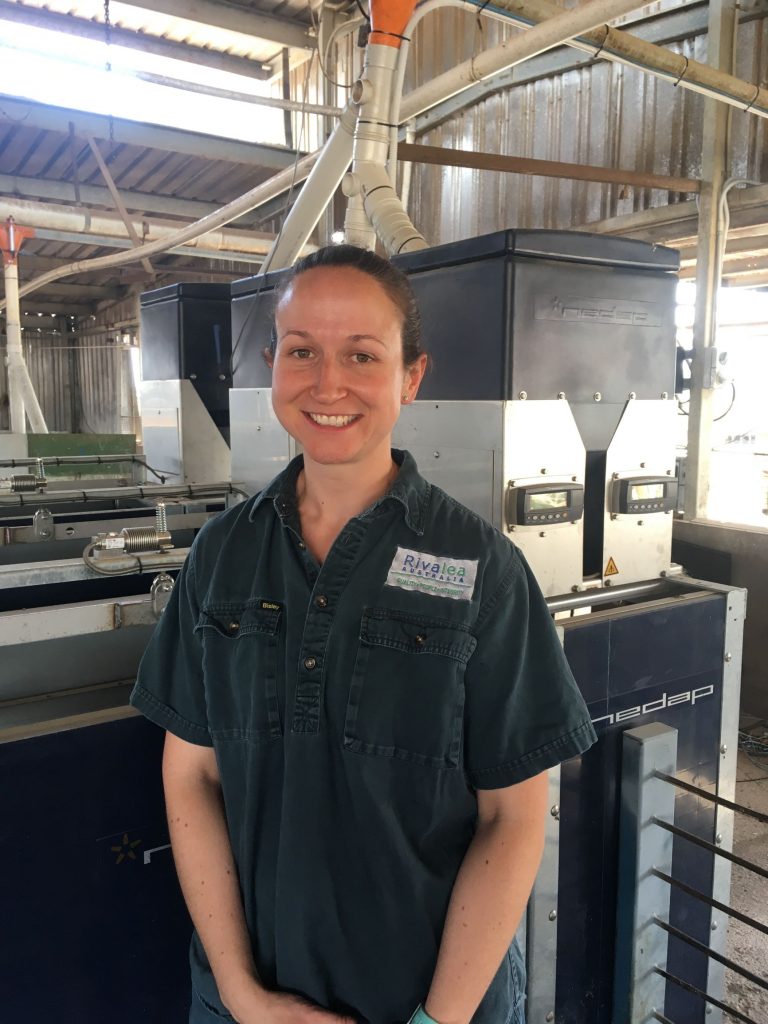 March 2019: Australasian Pork Research Institute Limited (APRIL) has announced Jess Craig, Rivalea, New South Wales as the first recipient under its Industry Placement Program (IPP).
APRIL's IPP program is similar to that successfully initiated in Co-operative Research Centre for High Integrity Australian Pork and complements future APRIL student support in education and training. The APRIL IPP program places graduates with employers able to give them hands-on experience, with specialist mentors, on-farm and in production.
APRIL CEO and Chief Scientist, John Pluske said the IPP program created career enhancing opportunities for graduate and post graduate students.
"By partnering high achieving, motivated graduates and post graduates with industry for three years, we're fast tracking the professional development of talented young people, while enhancing productivity for businesses," Professor Pluske said.
"After three years, the IPP providers and APRIL expect the IPPs to be more rounded and grounded in their understanding of the pork industry and how they can best impact it due to their on-the-job mentored training.
"It's a win-win situation for the future of a more robust, sustainable pork industry and APRIL is delighted we've been able to partner with Rivalea for our inaugural IPP placement," he said.
Ms Craig, who has a Bachelor of Animal and Veterinary Bioscience and is studying a Doctor of Philosophy at Murdoch University, is mentored at Rivalea by Rob Smits, Cherie Collins, Rebecca Morrison and David Henman.
She will work on two new APRIL funded projects addressing porcine chronic respiratory disease under field conditions and, with the use of DXA technology, the relationship between energy intake and protein deposition in 60-100 kg pigs.
Additionally, Ms Craig will coordinate and facilitate experiments as principal investigator in a new APL-funded project at Rivalea examining gilt progeny.