APRIL is pleased to announce that Lauren Staveley has commenced her Industry Placement Program with the SunPork Group in South Australia.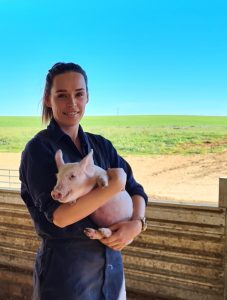 Lauren began her interactions with the pork industry in her second year of undergraduate Animal Science studies at The University of Adelaide through the Pork CRC student placement program, where she was placed at the McMahons McPiggery in Lameroo. After a brief detour into sheep parasitology (Honours project), Lauren worked as a Technical Officer at The University of Adelaide for Dr Will van Wettere, spending most of her time on sow reproduction and welfare projects. This eventually led to Lauren commencing a PhD focussed on the potential use of a suite of early (pre-weaning) indicators to aid in the selection of replacement gilts, titled Conception to culling – effective management of the gilt to optimise reproduction and longevity. The main aim of her postgraduate studies is to reduce the high replacement rate of sows in Australian breeder herds. Lauren plans to submit her PhD thesis within the next 6 months.
Lauren currently works for the SunPork Group as a production Management Trainee based at a 5,000 sow breeder farm. Lauren has already been exposed to many aspects and production stages of the business; however, Lauren said that the APRIL Industry Placement Program awardwill allow her to gain more in-depth knowledge of pork production whilst facilitating her involvement in reproduction and welfare experiments. The Industry Placement Program will provide Lauren with the opportunity to question and evaluate current production practices, and she looks forward to developing a greater understanding of pork production and research.