A key part of APRIL's Strategic Plan is education and training, to assist with human capacity building for the Australasian pork industry. APRIL will continue to support postgraduate and undergraduate activities as well as the Industry Placement Program (see below). Further details will be announced shortly.
All applications for education and training support through APRIL are assessed by the Education Advisory Committee. This comprises Professor Frank Dunshea (Chair; The University of Melbourne), Dr Heather Channon (Australian Pork Limited), Professor Wayne Hein (The University of Adelaide), Associate Professor Eugeni Roura (The University of Queensland), and Professor John Pluske (APRIL CEO/Chief Scientist).
Industry Placement Program
The Australasian Pork Research Institute Limited (APRIL) supports an Industry Placement Program (IPP), similar to that successfully initiated in the Cooperative Research Centre for High Integrity Australian Pork. The Pork CRC's IPP placed more than a dozen highly credentialed young people in industry positions where they engaged their academic skills and qualifications, and have added value to their workplaces. As part of an IPP Award, APRIL will provide the successful business applicant with $70,000 over the first two years to help cover salary and other costs associated with training the awardee for three years.
In February 2019, APRIL supported its first two IPP awardees.
APRIL Industry Placement Program starts at Rivalea and SunPork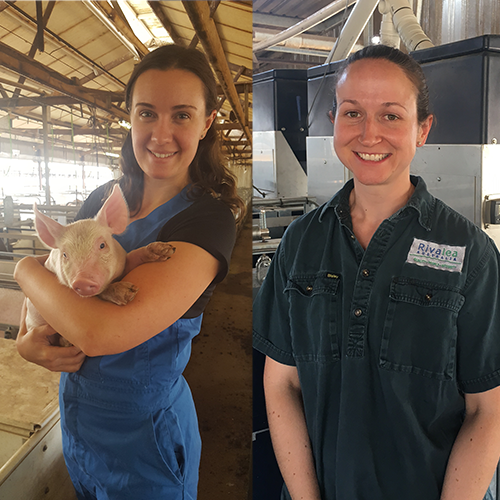 Australasian Pork Research Institute Limited (APRIL) has announced Jess Craig, Rivalea, New South Wales and Sofie Pridgeon, Wasleys Piggery, SunPork Farms, South Australia, as the first recipients under its Industry Placement Program (IPP).
APRIL's IPP program is similar to that successfully initiated in Co-operative Research Centre for High Integrity Australian Pork and complements future APRIL student support in education and training. The APRIL IPP program places graduates with employers able to give them hands-on experience, with specialist mentors, on-farm and in production.
APRIL CEO and Chief Scientist, John Pluske said the IPP program created career enhancing opportunities for graduate and post graduate students.
"By partnering high achieving, motivated graduates and post graduates with industry for three years, we're fast tracking the professional development of talented young people, while enhancing productivity for businesses," Professor Pluske said.
"After three years, the IPP providers and APRIL expect the IPPs to be more rounded and grounded in their understanding of the pork industry and how they can best impact it due to their on-the-job mentored training.
"It's a win-win situation for the future of a more robust, sustainable pork industry and APRIL is delighted we've been able to partner with Rivalea and SunPork Farms for our two inaugural IPP placements," he said.
Ms Craig, who has a Bachelor of Animal and Veterinary Bioscience and is studying a Doctor of Philosophy at Murdoch University, is mentored at Rivalea by Rob Smits, Cherie Collins, Rebecca Morrison and David Henman.
She will work on two new APRIL funded projects addressing porcine chronic respiratory disease under field conditions and, with the use of DXA technology, the relationship between energy intake and protein deposition in 60-100 kg pigs.
Additionally, Ms Craig will coordinate and facilitate experiments as principal investigator in a new APL-funded project at Rivalea examining gilt progeny.
Ms Pridgeon, who has a Bachelor of Animal Science and has been employed at SunPork Farms' Wasleys Piggery for the past two years, will be mentored by SunPork staff David Lines, David Maclean, Kate Plush and Sally Tritton.
She will work on two APRIL funded projects concerning the important industry issue of seasonal infertility, with Dr Kate Plush of SunPork Farms South and Dr Sean O'Leary, The University of Adelaide.